While dozens of players will move at the upcoming trade deadline, there's only one name at the center of the MLB trade rumor mill: Juan Soto. And while almost any team could benefit from the outfielder's bat, not every franchise will be willing to pay the steep price in players or prospects that the Washington Nationals are demanding.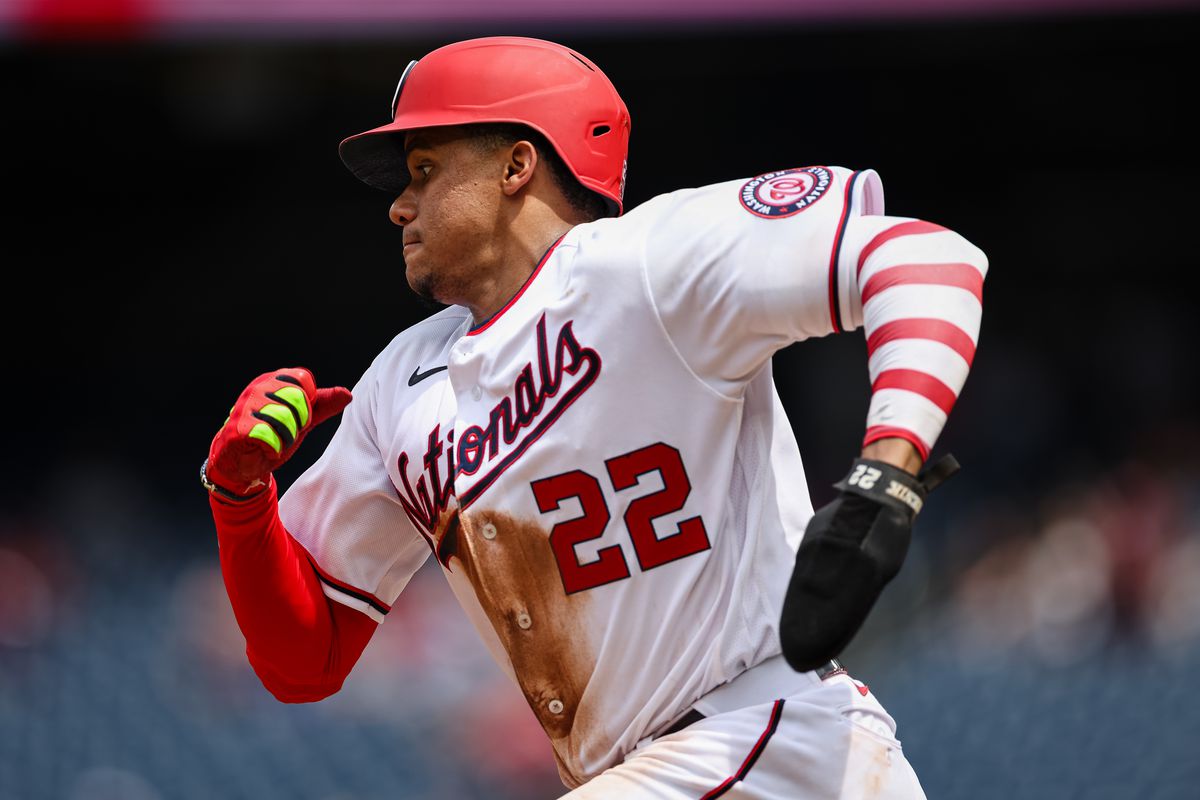 Numerous teams could make runs at trading for Washington Nationals superstar Juan Soto by the trade deadline next week. (Image: Scott Taetsch/Getty)
Even with Soto turning down a 15-year, $440 million extension, there's no guarantee the Nationals will trade the 23-year-old superstar right now. Washington might conceivably wait until the offseason to field serious offers from more teams, for instance. But numerous franchises will make offers for Soto over the next week. While a surprise bidder could upend the market before the deadline hits at 6 pm on Aug. 2, I've outlined the top five destinations for Soto below.
No. 5: New York Mets
New owner Steve Cohen has already shown he's willing to spend a lot of money – perhaps more than any other owner in baseball – to make the Mets a winner. Adding Soto would take the Mets from a top-tier World Series contender to somewhere in the range of co-favorites with the Dodgers and the Yankees.
However, the Mets suffer from a lack of depth in their farm system. That means New York would probably have to give up several of its top prospects, like catcher Francisco Alvarez, in any meaningful offer for Soto. Furthermore, the Mets don't have a lot of young talent in the majors, which is why they rank just fifth on this list.
No. 4: Los Angeles Dodgers
The Dodgers are already loaded at every position. However, Los Angeles also has the resources to add whatever it wants to, whenever it wants to. Adding Soto alongside Cody Bellinger and Mookie Betts in the outfield would lengthen an already formidable lineup and solidify the Dodgers as the favorite to win the World Series in 2022 – and perhaps beyond.
The Dodgers could also include some major league talent in a package for Soto, with both Gavin Lux and Dustin May potential pieces that could act as part of a long-term rebuild by Washington. Throw in some prospects, and the Dodgers could make an intriguing offer for Soto – and then find the money to keep him long term.
No. 3: New York Yankees
The Yankees are just like the Mets and Dodgers in a couple regards. They have the resources to sign anyone they want, and while they already boast a payroll that's above the luxury tax threshold, they are willing to spend more to win.
Like the Dodgers, they also have the payroll flexibility to potentially sign Soto in the future without going over any budget they might be sticking to. They can offer the Nationals the core of a great infield, either by including current major leaguer Gleyber Torres, or prospects such as Anthony Volpe. But with Aaron Judge's contract situation looming over the team, will the Yankees really want to negotiate with another superstar?
No. 2: St. Louis Cardinals
The Cardinals have an absolutely loaded farm system, with 2020 first-round pick Jordan Walker already impressing at Double-A and several other players from that draft also succeeding early in their careers. They could also include major-league talent like Dylan Carlson or Nolan Gorman in a package.
There are only two issues with a potential offer from St. Louis. First, the Cardinals don't have the resources of some of the teams above, though they could deal with paying Soto for the rest of this year and then structure their roster with him in mind in the future. In addition, ESPN's Jesse Rogers reported that the Cardinals want to add at least one front-line starting pitcher at the deadline, and they might prioritize that over even a hitter as great as Soto.
No. 1: San Diego Padres
The Padres may not have the deepest farm system in the majors, but there are few teams with as many elite prospects as San Diego. If the Nationals are looking for talent that could form the nucleus of a future contender, then names like Jackson Merrill and James Wood – the Padres' first two picks in the 2021 draft – could fit the bill.
That said, the Padres aren't a strong favorite in this race at all. There are teams out there – including some on this list – who have more depth and might be able to craft packages to outbid San Diego. And as with many potential suitors, it's impossible to know if financials will lead to the Padres backing away from Soto if they think they can't resign him after the 2024 season.