The Oklahoma City Thunder hired Chip Engelland as their new assistant coach, who is known in many circles as the "Shot Doctor" for his ability to help young players develop a lethal jump shot.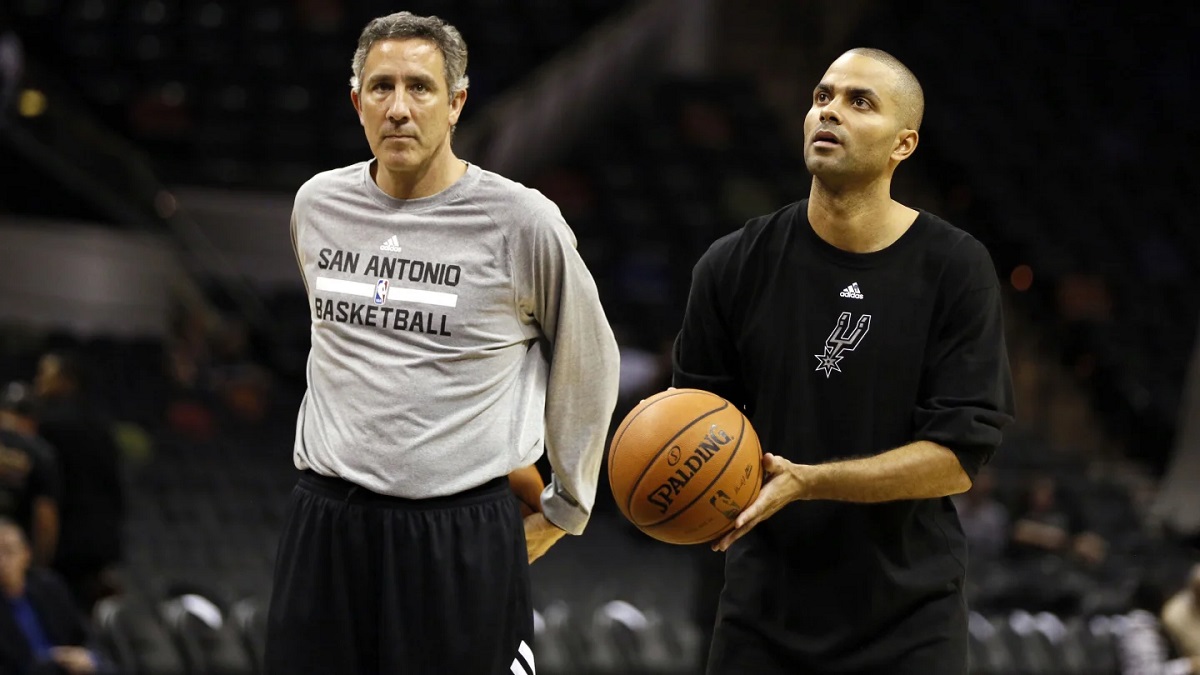 Assistant coach Chip Engelland working on a shooting drill with Tony Parker of the San Antonio Spurs. (Image: Getty)
Engelland joins the staff under head coach Mark Daigneault. Engelland will be tasked with improving the Thunder's overall shooting. They were ranked dead last in the NBA in 3-point efficiency.
Engelland will also help develop Josh Giddey and incoming rookies Chet Holmgren and Jalen Williams.
Everyone is wondering if the Thunder will finally take off the training wheels and take flight, or if they are going to tank again this season for a shot at hitting the draft lottery with Victory Wembanyama. The bookies think the Thunder will tank because their win totals are 26.5 o/u.
Regardless if the Thunder actively try to lose games or not, they'll be fun to watch thanks to a young squad that includes Giddey, Holmgren, Jalen Williams, Shai Gilgeous-Alexander, Lug Dort, Darius Bazley, Tre Mann, and Theo Maledon.
The Thunder are long shots claim the Southwest Division title at +30000 odds, and they also have astronomical odds to win the 2023 NBA championship at +70000 odds.
Spurs Lose Engelland
Engelland played collegiate ball at Duke, but he also gained notoriety for dating Jeanie Buss in high school. They both attended Pacific Palisades High School in the late 1970s.
Engelland spent the last 17 seasons on Gregg Popovich's staff with the San Antonio Spurs. Across the league, Engelland was respected as one of the NBA's highest paid assistant coaches because of his sensational transforming members of the Spurs into elite shooters. Some of his former pupils include Kawhi Leonard and Tony Parker. He also helped out former Duke players like Grant Hill and Shane Battier.
Engelland first made a name for himself as a "Shot Doctor" nearly 30 years ago when he helped Steve Kerr become a reliable 3-point sniper when Kerr first joined the Bulls in 1994.
The Spurs and Engelland were in the middle of a lengthy contract negotiation, but the Thunder saw the value in Engelland and made him an offer he couldn't refuse.
Giddey will become the primary student for Engelland. The young player from Australia set a couple NBA records last season as the youngest player to record a triple-double, and the youngest player with back-to-back triple doubles. The big and only knock against Giddey was his inconsistent outside shooting, especially from 3-point range. Giddey shot only 419% from the floor and struggled with a 26.3% clip from 3-point range. He was also just a 70.9% free-throw shooter.
The Thunder want Engelland to help develop Giddey into a much better shooter across the board. Of course, they'd love for Giddey to become a 50/40/90 guy, which would put him in an elite shooter category.