Taking a page from their Churchill Downs counterparts, the Breeders' Cup took a long-awaited, beneficial step for horseplayers, instituting future wagering on the $6 million Breeders' Cup Classic.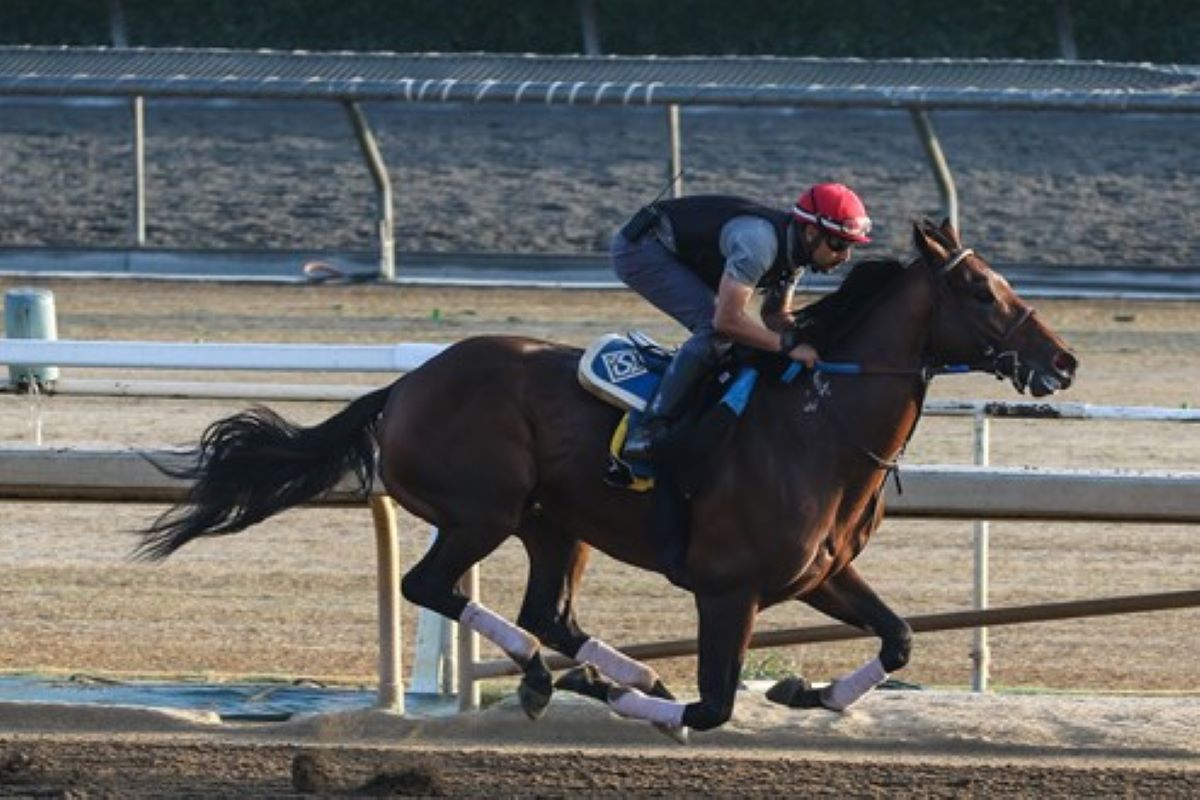 Flightline, seen here working out at Santa Anita Park in early July, will be the favorite in the first Breeders' Cup Classic Future Wager pool. That new future wager begins with the first of two pools next week. (Image: Ernie Belmonte)
The Breeders' Cup future wager not only borrows a page from Churchill Downs' Kentucky Derby Future Wager (KDFW) pools, it cribs the playbook.
Like the KDFW, there will be individual pools of 24 offerings: 23 individual horses and an "All Others" that covers those not individually listed. But unlike the KDFW, which encompasses five pools spanning from November to March, the Breeders' Cup Classic Future Wager consists of two pools.
The first opens Friday, Aug. 5 at noon ET and runs through 6 p.m. ET Sunday, Aug. 7. The second runs Labor Day weekend, opening Friday, Sept. 2 at noon ET and closing Monday, Sept. 5 at 6 p.m. ET.
No Breeders' Cup side pools this time
And unlike the KDFW, which offered side pools on who the sire of the winning Derby horse would be, there are no side pools on the other 13 Breeders' Cup races.
The Breeders' Cup Classic Future Wager comes with a $2 minimum and is restricted to win bets only. It's offered on ADW platforms, simulcast centers, racetracks and OTB sites.
Even with its limitations, the Breeders' Cup Future Wager fills a gaping hole in horseplayers' betting options. In the past, most American bettors had little — if any — ability to bet Breeders' Cup futures. Odds were offered overseas, which they are now.
Two years ago, when Circa Sports opened its Kentucky Derby future book, the Las Vegas casino added Breeders' Cup Classic future wagers. It helped fill the gap but remained outside many bettors' grasp because of its limited reach.
Even before the first Breeders' Cup Classic pool, we know the favorite
Speaking of those overseas odds, Flightline is — not surprisingly — the current favorite. He's listed anywhere from 9/4 to 3/1 on the European books. Expect him to open as the Breeders' Cup Classic Future Wager favorite next week. And expect him to take plenty of money.
Second choice Life Is Good checks in between 6/1 and 7/1.
Belmont Stakes champion Mo Donegal, who is out for the Breeders' Cup with a bone bruise, remains the shortest-priced 3-year-old. He's listed between 8/1 and 10/1. Haskell Stakes winner Cyberknife is right behind him, ranging between 8/1 and 12/1.