The NBA is relocating a G League team to the Las Vegas suburb of Henderson, stoking the rumors that a full-fledged NBA team will soon follow. And for good reason. Ignite isn't just an ordinary NBA development team — it's the NBA's elite training program, molding next year's superstars.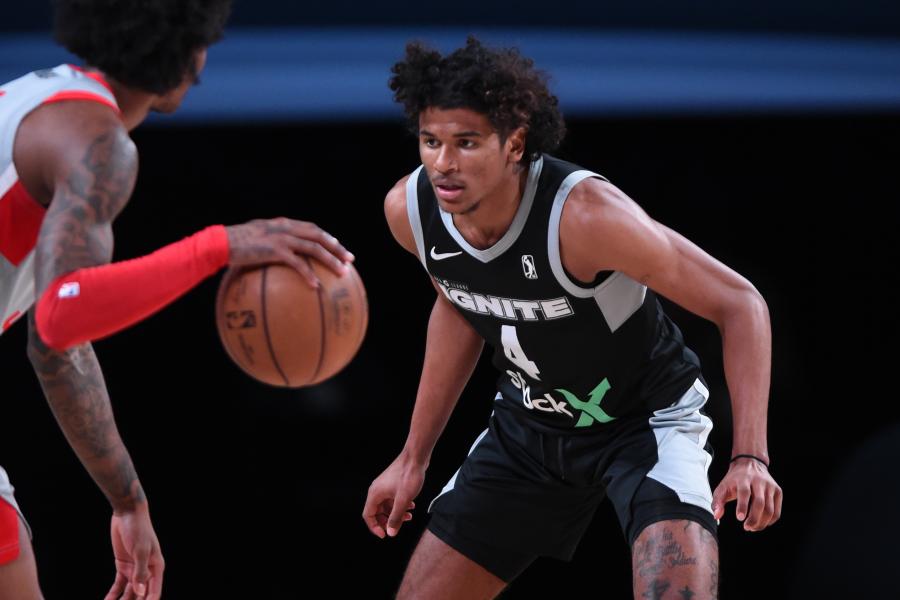 Jalen Green made headlines when he bypassed college to join Ignite, an elite G League team dedicated to developing top prospects. Subsequently, Green was the NBA's 2021 No. 2 overall draft pick and now plays for the Houston Rockets. (Image: Juan Ocampo/Getty)
Arguably, there are issues with basketball's "one and done" model. College teams lose players just as they're developing and the players don't get the most relevant training to play pro ball. Meanwhile, the NCAA is hardly where you want to stick your up-and-coming international players. The G League — and especially Ignite — fills the obvious voids ignored by the NCAA.
NBA G League move sets stage for Vegas
While Jalen Green has moved up to the NBA, Ignite fans will still get to see some top prospects. For instance, Ignite just signed Sidy Cissoko to a one-year deal. The 18-year-old Cissoko is considered one of Europe's top three prospects. And there will be many more making their way to Nevada now that Ignite has found a new home.
Once forbidden ground for any professional sport, Las Vegas has become a sports Mecca. Leagues worried about the optics of a Vegas team in a locale that allowed gambling on sports. After the Supreme Court lifted the US sports betting ban, however, that all changed.
Just weeks ago, G League President Shareef Abdur-Rahim hinted about a move to Vegas.
"With avid sports fans in the Las Vegas area who have quickly embraced their hockey, football and WNBA teams, we can't wait for NBA G League Ignite to showcase its future NBA stars and exciting brand of basketball," Abdur-Rahim said
Ignite is no stranger to Las Vegas. While based in Walnut Creek, California, the team played its 2021-2022 home games in Las Vegas. Now, Ignite will be moving venues. Starting with the 2021-2022 season, the G League team will play in Henderson's Dollar Loan Center, currently home to AHL affiliate, the Henderson Silver Knights.
NBA Commissioner Adam Silver had been a longtime opponent of expansion. At the end of 2020, however, Silver changed his tune. Seattle and Las Vegas were considered top contenders. Those same cities popped up again in the rumor mill during a Bill Simmons podcast earlier this year.
Now that Vegas has both the NBA's elite G League team and a WNBA team, NBA expansion seems all the more likely.
G League success stories
Since its launch in 2020, Ignite has ushered a number of players into the NBA. Jonathan Kuminga went from Ignite to winning the 2022 NBA Championship in his rookie year with the Golden State Warriors.
Jaden Hardy turned down offers from both Kentucky and UCLA. Instead, he signed with Ignite in June 2021. One year later, Hardy signed with the Dallas Mavericks and scored 28 points in his Summer League debut. Dyson Daniels is another Ignite alumni. Daniels was the eigth overall pick in the 2022 NBA draft and signed with the New Orleans Pelicans.
Even before Ignite's 2020 launch, however, the G League (formerly the D League) had been an important pathway to the NBA. For example, Rudy Gobert spent time with the Bakersfield Jam. It's almost funny to look back at his highlight reel from those days. But those developmental league games turned Gobert into the "Stifle Tower" NBA fans recognize today. Gobert would go on to win the NBA Defensive Player of the Year — three times.
Danny Green was a great prospect out of UNC, but after graduation, two NBA opportunities ended in waivers. As a result, Green did stints with both the Reno Bighorns and the Austin Toros. The San Antonio Spurs eventually gave Green another chance, and it worked. Green went on to win three NBA Championships.
Khris Middleton did a short stint with the Fort Wayne Mad Ants. He would eventually become the first G League player to make the NBA All Stars, which he did three times. Middleton also won a gold medal in the 2020 Olympics. So far, Middleton is the only former Mad Ants player who can make that claim.