The Breeders' Cup World Championships announced Thursday it will bring the Breeders' Cup back to Santa Anita Park for a record 11th time in 2023. That milestone for the Southern California track also comes with a milestone for the fall racing bacchanalia: the 40th running of the Breeders' Cup.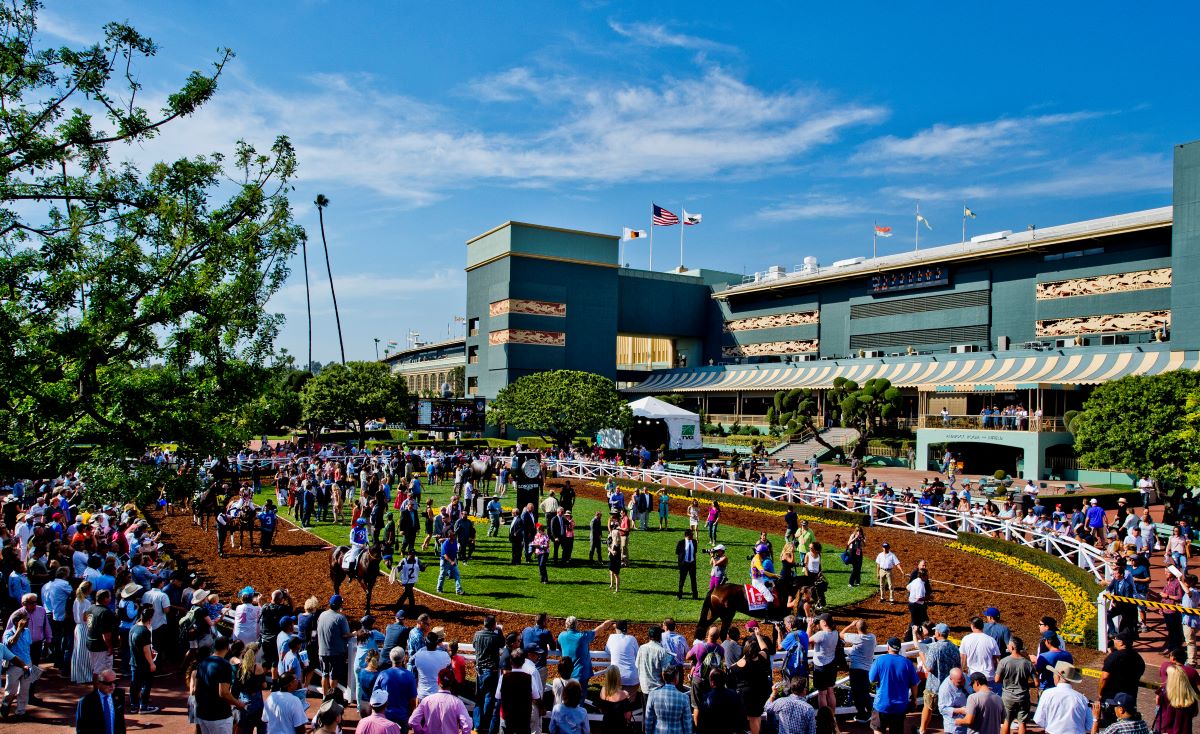 Santa Anita Park owns the record for largest Breeders' Cup crowd: more than 118,000 in 2016. The annual fall racing festival returns to Santa Anita for the 11th time in 2023. (Image: Benoit Photo)
That running is Friday, Nov. 3 and Saturday, Nov. 4, 2023.
Even with the Breeders' Cup moving around North America; Santa Anita stands alone. It holds the event's all-time attendance record: 118,484 fans in 2016. When Santa Anita played host the last time in 2019, bettors wagered a record $175 million.
"Santa Anita Park is an integral part of Breeders' Cup history and is the perfect venue for our landmark 40th running," Breeders' Cup President and CEO Drew Fleming said in a statement. "Since our founders conceived this season-ending championship four decades ago, the Breeders' Cup has consistently been one of the leading global events in Thoroughbred racing. Santa Anita's outstanding reputation and scenic venue provide us with the ideal setting to continue to grow our audience by combining the best that racing, hospitality, and entertainment have to offer."
Santa Anita offers everything on the wish list
Located east of Los Angeles, at the base of the San Gabriel Mountains, Santa Anita plays a reliable Breeders' Cup go-to. It's proximity to Hollywood and the Southern California entertainment industry, ample space, mild November weather and picture-postcard setting provide Breeders' Cup officials plenty of reasons to return.
Santa Anita is the only track to host the Breeders' Cup more than two years running when it hosted the event from 2012-14. After the Breeders' Cup went to Keeneland in 2015, it returned to Santa Anita in 2016. Detours to Del Mar in 2017 and Churchill Downs in 2018 preceded its return in 2019.
That former Breeders' Cup CEO Craig Fravel now heads 1/ST RACING, Santa Anita's parent, certainly doesn't hurt either.
Breeders' Cup passes between California and Kentucky now
The Breeders' Cup began at the late Hollywood Park in 1984. For the first 20-plus years, it migrated all over North America. Organizers took it to such long-ago destinations as Aqueduct (1985), Belmont Park (1990, 1995, 2001, 2005), Gulfstream Park (1989, 1992, 1999) and Lone Star Park (2004). But the last time it was held outside of California or Kentucky was 2007, when it went to Monmouth Park.
Set for Nov. 4-5 at Keeneland this year, the Breeders' Cup features 14 races attracting the top Thoroughbreds in the world. The $31 million in purses includes $6 million for the Classic, which is a veritable Thoroughbred all-star race. The Classic winner often becomes Horse of the Year, such is the prestige of that race.